About Shopify
Shopify is an eCommerce service provider trusted by over 200,000 businesses. Acutrack has built an integration via an App available in the Shopify App Store. This app allows us to communicate with your Shopify account and automate the fulfillment process seamlessly.
Features:
Automated Order Notification – Once the Shopify integration with Acutrack is completed, when a buyer makes a purchase in your store, the order will be automatically notified to our system. You can log in to the portal and view the orders.
Shipment Notification – Our team will pick, pack, and ship your order. Once the order is shipped, the tracking number will be sent to your store instantly. You can set up in your Shopify account to send an email to the buyer. Your buyer will be instantly notified with a tracking number.
Install our App:

Please click this link https://apps.shopify.com/acutrack and click the "GET" button and follow the below steps to integrate.
Log in to your Shopify store and install the Acutrack app. Upon installation, you will be redirected to "Acutrack Customer Portal"

Register to our portal

Your Shopify Token Key will be automatically configured on the Acutrack system during this step.
Product setup in Acutrack:
Please refer to the article regarding SKU mapping.
https://support.acutrack.com/hc/en-us/articles/360020102874-Can-you-help-provide-details-of-your-SKUs-in-our-Product-Control-sheet-
Product set up in Shopify:
Enter Product Code/SKU you provided to Acutrack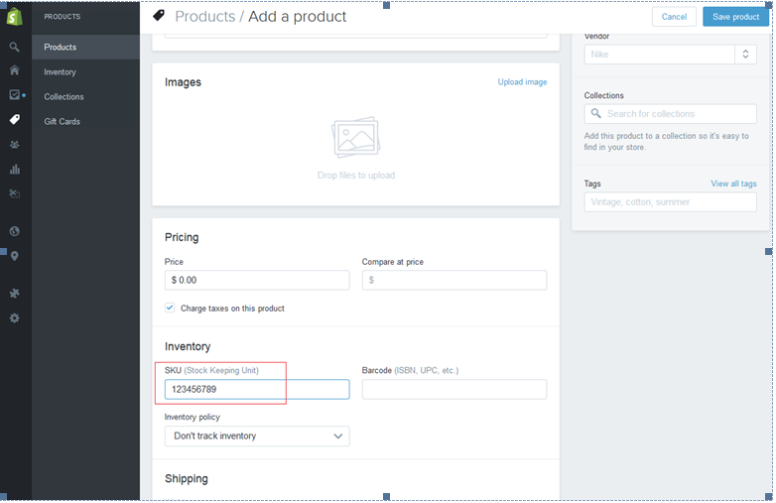 Shipping method setup:
There are different ways to set up shipping costs in Shopify. Please refer to the below articles and choose the right options based on your business needs.
https://support.acutrack.com/hc/en-us/articles/212106623-How-do-I-map-my-e-Commerce-shipping-methods-to-Acutrack-
https://help.shopify.com/en/manual/shipping/setting-up-and-managing-your-shipping/setting-up-shipping-rates
Order status settings:
We download orders with payment state "Paid" and shipment state "Unfulfilled".
Disable the automatic fulfill option in your account. Refer the screenshot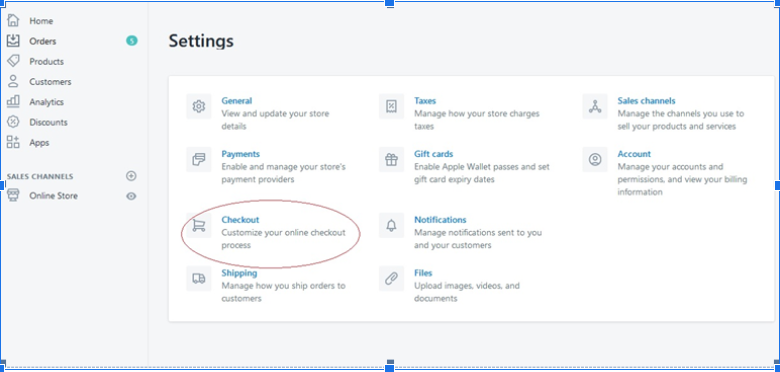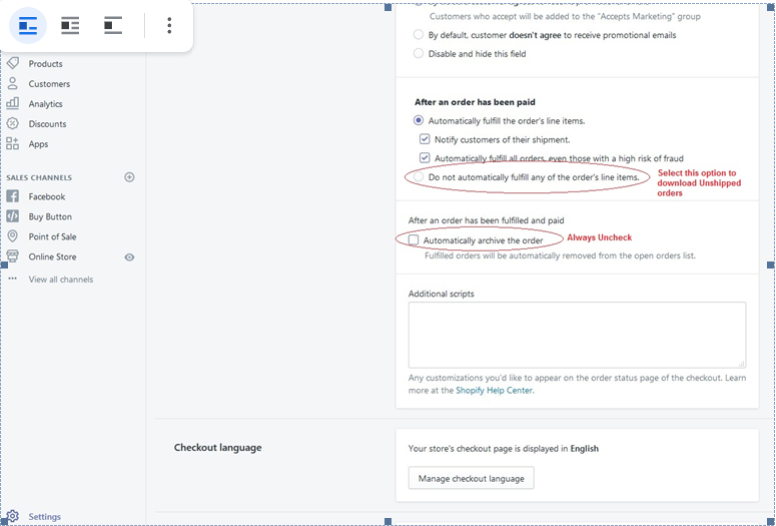 Acutrack as your Fulfillment Partner - Please follow the steps below to add Acutrack as your fulfillment provider and send us the Location ID for us to be able to send back the shipping confirmation once the orders are shipped from our end.

Steps:

1) Go to Settings > Locations.
2) Click Add location.
3) Enter a unique name (Acutrack) and an address for the location (350 Sonic Avenue, Livermore, CA 94551, USA)
4) If you want the inventory at this location to be available for online purchases, then check to Fulfill online orders from this location.
5) Click Save.
Getting Started - Once you install the Acutrack App in Shopify, one of our sales representatives will contact you and discuss your business needs and set up the account at Acutrack. Refer to the article
https://support.acutrack.com/hc/en-us/articles/360051237134-Getting-Started
Metafields:
Shopify has Apps to add custom fields to product and order data. You can use any of these apps to add custom fields. Generally we will be able to retrieve the metafield data from shopify. However, we recommend you to install the app, add metafields and place a test order and notify Acutrack to make sure we are able to access the metafields
https://apps.shopify.com/search?q=metafields&st_source=autocomplete
Placing Test Orders:
https://support.acutrack.com/hc/en-us/articles/212107263-Placing-Test-Orders