USPS Priority Mail International:
USPS Priority Mail International is an expedited way to send mail and packages weighing up to 70 pounds to destinations around the world. Priority Mail International is a faster service where most packages arrive within 6 - 10 business days.
Acutrack recommends using this service for 5 lb. or above package. Prices are based on zone/group based - see details below:
Chart A - Canada zone-based shipping cost
Chart B - for the rest of the countries

Group 1: Canada
Group 2: Mexico
Group 3: Pacific Rim including Australia, China, Japan, and South Korea
Group 4: Eastern Europe including Russia, the Czech Republic, and Turkey
Group 5: Western Europe including Germany, France, Spain, and the UK
Group 6: Southeast Asia including Taiwan, India, Philippines, and New Zealand
Group 7: Africa including Kenya, South Africa, and Cameroon
Group 8: Middle East including Egypt, Jordan, UAE, and Saudi Arabia
Group 9: South America including Brazil, Argentina, and Costa Rica

Chart A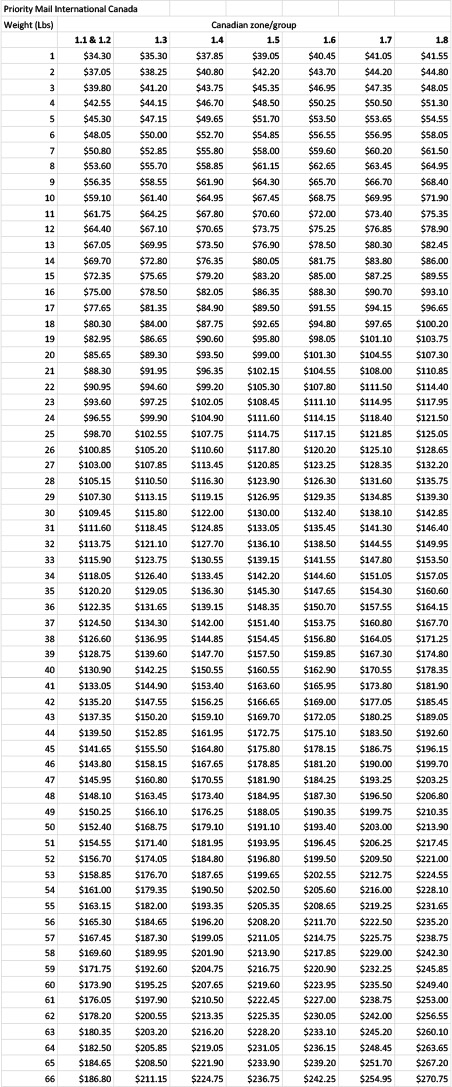 Chart B

USPS First Class International to Canada:
USPS First Class International to Canada supports up to 4 LB. Packages arrive within 10 - 20 business days.